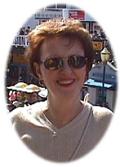 We live in Simi Valley, California with two cats and five computers. We came to Simi after a five-year adventure in Silicon Valley (well, to be more accurate, San Jose). We sold our townhouse in the San Fernando Valley (Chatsworth, to be more precise), to go to work for Clear Logic, Inc., a startup semiconductor manufacturer that never quite got started, despite five years of hard work on the part of a lot of well-intentioned people. Oh, well - it really was a great job while it lasted. And most importantly, we're back in the area and with the friends and family we love so much.




To the friends and co-workers we left behind in the Bay Area, we say "Good luck and God (or the diety/sprit guide/guru/chemical you prefer) be with you." And if you're in the mood for a little stroll down memory lane, check out the Clear Logic Photo Album.

After a four-year stint designing engines of war and destruction at Northrop Grumman in Woodland Hills,Tom now has the job of his dreams at Aerovironment, Inc., working on the Global Observer Unmanned Aerial Vehicle program, which is currently undergoing flight testing at Edwards Air Force Base

Did I mention we sold our townhome in Chatsworth to move to San Jose? Well, after 11 years of renting, we finally managed to scrape together a down payment and bought our dream house here in Simi. Life is good.



Click here to browse through our photo album.
Click here to check the uptime of this server.